Jet Skis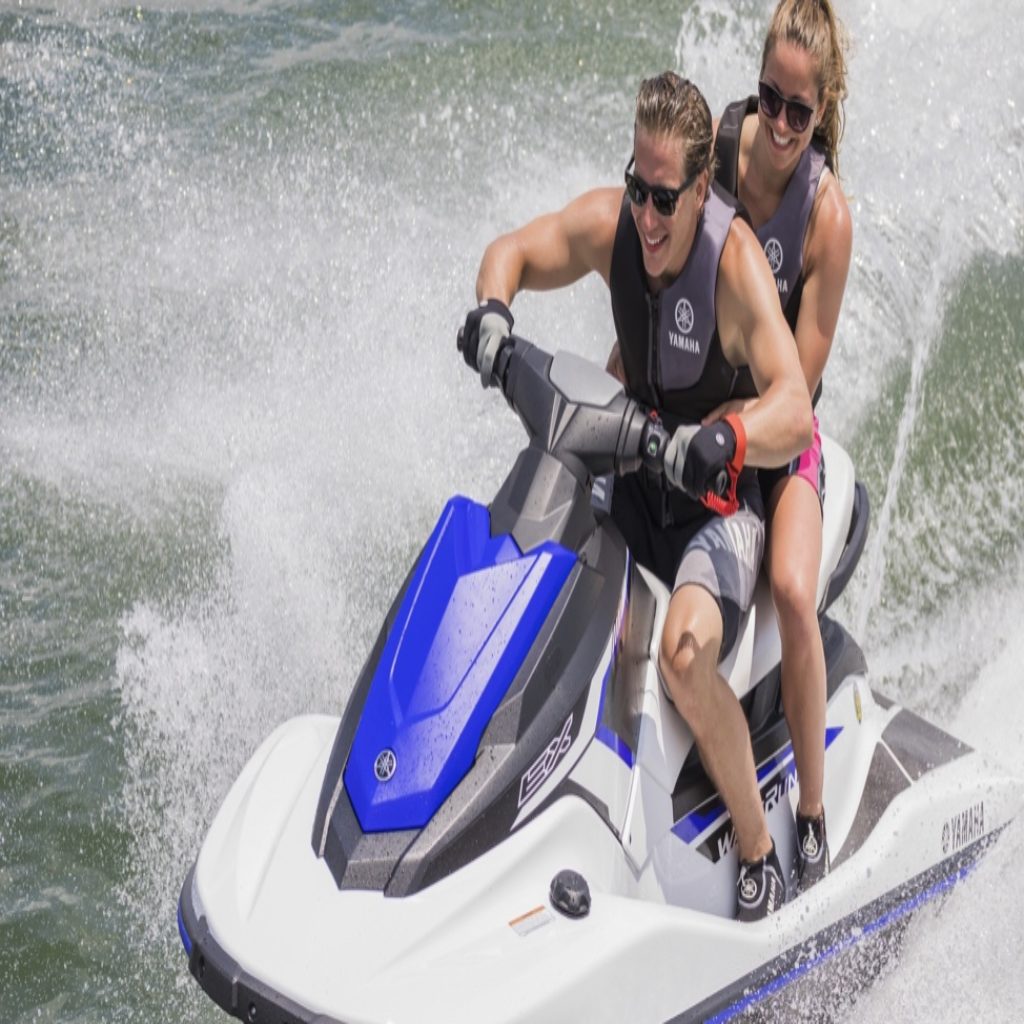 $100 1st full hour;

$65 for additional hour

$275 for half day (4 hours)
$425 for full day (8 hours)
Pontoons
9 person Pontoon- $275 per half day (4 hours) $460 per full day (8 hours)
10 person Pontoon- $295 per half day (4 hours) $485 per full day (8 hours)
Deposit: $50 per jet ski/ pontoon is due upon reservation. This amount goes toward the price of your rental! It is refundable if you decide to change or cancel your reservation AT LEAST 24 hours in advance or in the event of inclement weather.
DAMAGE DEPOSIT: $400 which is charged at the time of your rental. The damage deposit is refundable as long as there is no damage present upon the return of your watercraft!
*Prices include 1st full tank of gas; additional gas can be purchased through us if needed, price depends on market. A full tank of gas in jet skis is just 13-18 gallons and typically lasts people 3-4 hours or more. Pontoon rentals hold 20+ gallons and typically last all day or more!
*Week day discounts available, please keep up with our Facebook *Click Here* to see the current week day deals! You can also share those pics with us on Instagram @kegcreekwatersports

PLEASE READ ABOUT MANDATORY AGE REQUIREMENTS BEFORE RESERVING PONTOONS ORJET SKIS
Anyone born before 1998 is eligible to rent with a valid driver's license; anyone 18 and older born on or after January 1, 1998 is required, by law, to have proof of completion of a Boating Saftey Course recognized by Georgia DNR, along with a valid driver's license to drive jet ski! You will also need a valid credit card for a $50 deposit at the time of booking. No one under 18 can rent any equipment without a parent/guardian. No one under 18 can operate our jet skis by themselves under any circumstance.
JET SKI DRIVERS MUST WATCH COMPANY JET SKI SAFETY VIDEO- https://youtu.be/Z4Hbw9-vAQc
PONTOON DRIVERS MIST WATCH PONTOON SAFETY VIDEO- https://youtu.be/JpsFC_tP6p0
ALL DRIVERS of ANY MOTORIZED WATERCRAFT MUST by LAW review the Georgia DNR Boat Rental Safety Video- VIEW Required Safety Video ://youtu.be/8tLpiXdBNYA
ALL DRIVERS MUST by Law review the Rental Orientation Checklist
Required Rental Orientation Checklist
ANYONE PARTAKING IN ANY OF OUR ACTIVITIES MUST SIGN WAIVER (waivers are available on site but feel free to print them out and sign them prior to arriving for your rental- all questions can be answered after reviewing the mandatory safety videos! The questions/ test on the 4th and last page only need to be answered by drivers of motorized watercraft): DOWNLOAD WAIVER

WE ADVISE ARRIVING AT LEAST 15 MINUTES EARLY TO SIGN WAIVERS, INSPECT YOUR PWC, AND GO OVER PWC CONTROLS. IF YOU WOULD LIKE TO WATCH THE VIDEO AT OUT LOCATION WE ADVISE ARRIVING 30 MINUTES EARLY! IF YOU ARE LATE IT WILL MORE THAN LIKELY CUT INTO YOUR RENTAL PERIOD! NO MORE THAN 3 DRIVERS PER PWC- NO EXCEPTIONS!!!!
If you were born on or after January 1, 1998 and are interested in acquiring a Georgia Boating Safety Certificate you can find information on the FREE course >>HERE<<
IT IS RECOMMENDED THAT ANYONE ON BOARD A PWC WEAR WET SUIT BOTTOMS OR SIMILAR PROTECTIVE CLOTHING- THIS IS THE ONLY WAY TO PREVENT WATERJET RELATED INJURIES!! While we provide PFDs (lifejackets) we do not provide wet suit bottoms.
RESERVE YOUR JET SKI NOW!
MOBILE USERS!!! For a better booking experience, visit http://webreserv.com/kegcreekwatersports
*If we do not have any reservations for week days by 6pm the night before, we may not be on premises. We advise making reservations for week days at least 16 hours in advance!